TEAMSTER JOINT COUNCIL 25 WOMEN'S COMMITTEE asks you to join us and walk!
TEAM JC25WOMEN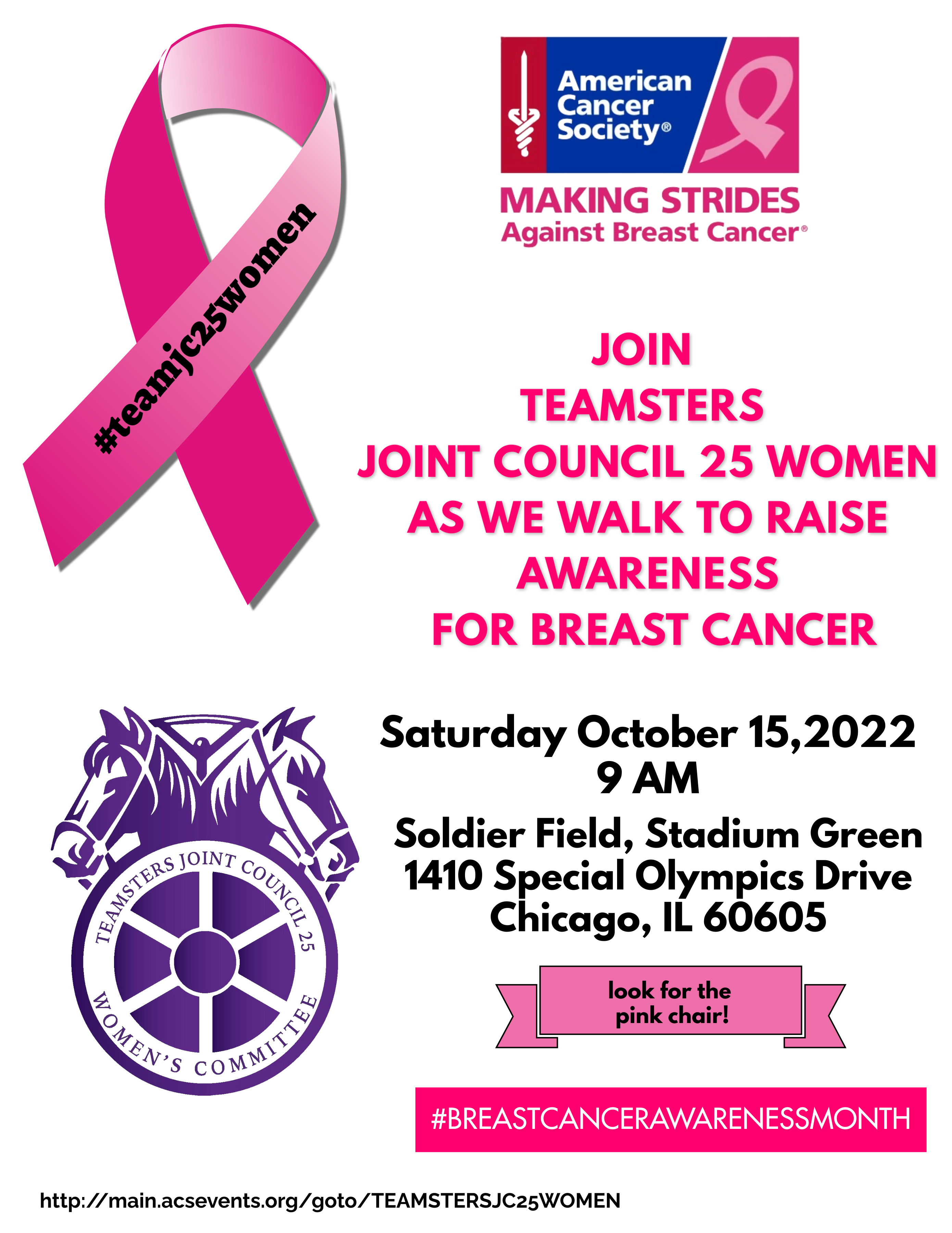 Many tremendous breakthroughs have been made in the fight against breast cancer, yet breast cancer continues to be the most common cancer diagnosed among US women and is the second leading cause of death among women after lung cancer.
Almost everyone has been touched by breast cancer in some way. Teamsters Joint Council 25 Women's Committee IS committed to making a difference in the fight against this deadly disease. JC25 Women is a major sponsor of the American Cancer Society's Making Strides Against Breast Cancer event on Saturday October 15, 2022, at Soldier Field Stadium Green. The walk starts at 9 a.m.
The donations our team raises will enable investment in groundbreaking breast cancer research, free information and services for women diagnosed with the disease, and access to mammograms for women who need them. Our donations will help more than 2.9 million breast cancer survivors celebrate another birthday this year!
We know that the American Cancer Society is the leader in the fight to end breast cancer. We know that supporting them will ensure that if you need someone to talk to anytime of the day or night, they will be there. If your friend is losing her hair from chemo, your mother needs a ride to treatment, or a loved one needs a place to stay when treatment is far from home, they will be there to help.
Join us and together we will walk for a world without Breast Cancer.
To join our team or to donate, go to http://main.acsevents.org/goto/TEAMSTERSJC25WOMEN
.
Download:

TEAMSTERS JOINT COUNCIL 25.jpg